2016-02-16
Egy mélyre süllyedt projekt – a Vasa
A ComputerWorld-ben megjelent 2012-es cikk újraközlése. A papír alapú újságba csak egy rövidített verzió fért be, az újság weboldalára kirakott teljes verzió pedig az értelmezést nehezítő tördelési hibákat tartalmaz. Az alábbi linken az eredeti, helyesen tördelt szöveg olvasható.
2013-11-22
PRTG Network Monitor
We are pleased to introduce that we chose the PRTG Network Monitor to manage our devices.
http://www.paessler.com/prtg
2013-09-27
Facebook and TV
Facebook has selected a handful of news organizations –  from CNN to NBC's Today Show – to allow them to begin integrating Facebook conversations into their broadcasts or coverage by displaying public posts of real-time activity about any given topic.
link via lostremote
2013-07-03
How second screen is really being used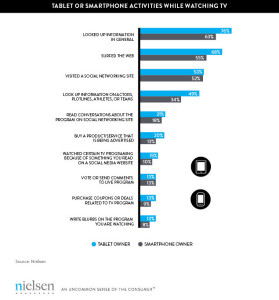 A Nielsen statistic on how people really use tablets.
via Fast Co.Design. 

2013-06-27
Using Public Web Services to get Information
Using Public Web Services to get Information about Music Artists, Albums and Tracks
Link via CodeProject